Leather Repairs & Restoration
We provide your leather with the necessary enhancement to achieve a professional level repair for complete restoration. As leather repair specialists, with many years of experience, we understand the issues - the wide variety of leather types present in the market-place, customer usage patterns, different tannery-based colouring strategies, and in-the-home environmental issues (e.g. sun exposure, wear patterns, stains, body oils, pet damage, or heat exposure). These considerations make every leather piece presented to us a challenges to the repairing process. All your furniture problems need to be addressed individually in order to achieve a satisfactory, long lasting result. With our help in providing details and our knowledge on implicating a best solution for your leather, our custom-created leather repair will be practical and functional in the long run.
When your leather is sun-faded, ph damaged, has extensive finish failure or subject to dye-transfer, a full restoration of your leather is required. Our trained technicians will restore your leather to a like-new condition, costing you far less than buying a replacement piece. We tailor our services to your needs by reviewing and examining your leather to give you the best restoration option to meet your requirements and budget.
Leather Colour Change (From Lounges to car interiors)
Leather change is common, especially when updating the interior design of your home. We can colour match with a given leather of what is already in the house or have all leather changed to match a completely different colour of your choice.
If you have a faded medium brown piece, and desire a rich, hunter green, we can do it. We can create the colour of your choice on your existing leather that reflects your changing decor or preference.

Leather Cleaning
Overtime, your leather will become worn and deteriorate. This is caused when the leather is left in the sun for a period of time giving it a faded look. Things such as dye transfer from the body oil accumulate a finish failure and require the leather to get a collar application to repair. To ensure your leather maintains its moisture, we include a leather conditioner in the cleaning process. When your leather has a surface finish, the result of cleaning will make a dramatic difference in appearance. We also improve the aesthetics of soiled suede and nubuck leathers.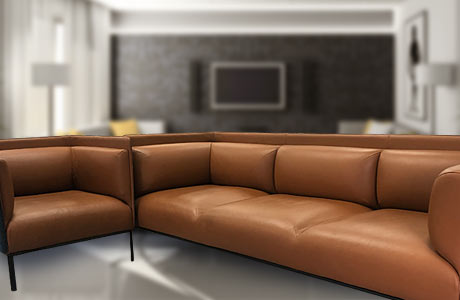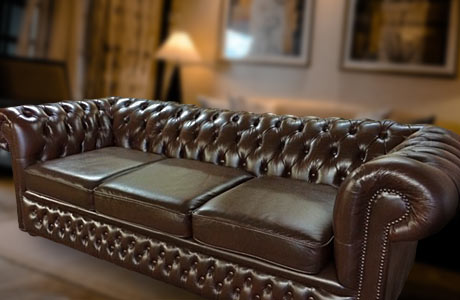 Caring for your Leather / Leather Maintenance
The most under-rated aspect of caring for your leather furniture is maintenance. Your leather can lose moisture and strength due to the use of inappropriate products that is often sold by retailers at a high price with low effectiveness. At Leather Upholstery Repair we have developed a system to provide professional solutions to solve these problems existing commercial products can create.
To maintain your leather lounge, wiping with a damp cloth every time you dust your furniture will aid in preventing fine surface dust from becoming embedded into your topcoat. Distancing the lounge from heat sources such as a wall heater, fireplace or direct sunlight, will help reduce fading effect on finished leathers to keep its colours longer lasting. These effects are much more apparent on aniline and semi aniline furniture.
To maintain your leather topcoat on your lounge, it is good to know that denim is a harsh fabric that will wear your topcoat. It is probably worth considering what you wear in order to understand the key factors that play in prolonging its life and why we should appreciate and care for our leather.